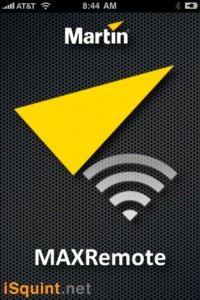 During LDI 2009, Martin announced that they released the MAXRemote iPhone App.  The MAXRemote is an iPhone App to remotely connect to the Martin Maxxzy and Maxxyz PC lighting consoles.
MAXRemote discovers remote lighting devices automatically and allows for manipulation of fixtures, presets, channels and more when users connect to a Maxxyz.
Multi-touch belts in the parameter view allow for manipulation of DMX values with great precision. A pan/tilt control even allows for control of a moving light's pan and tilt via the iPhone or iPod touch's built-in accelerometer.
Users can control color values in both CMY and RGB modes with support for Lee, Rosco and GAM filters. Users can also trigger cuelists with Go, Pause and Release commands. An offline mode allows anyone to experience MAXRemote without the need to have it connected to a Maxxyz system.
Features:
Automatic discovery
Controls Maxxyz remotely
Black skin for dark environments
Integrated help
Passcode protected
Saves show data for fast follow up synchronization
Controls all fixtures in a show
Integrated fixture search
Create and edit presets
Pan/Tilt view with built-in accelerometer support under sensor mode
Color picker with support for Lee, Rosco and GAM filters
Easy manipulation of all DMX channels
Fast menu appears when shaking device (clears values quickly)
Browse through fixture groups in a cover flow-like interface under landscape mode
Start, pause and release cuelists, chases, etc.
Exclusively for iPhone and iPod touch
The Martin MAXRemote requires a Maxxyz controller, but Martin has included a demo show file with the download to test out the MAXRemote to see how the app works.  There was a some concerns brought up right after the release of the MAXRemote that parts of the app were a little to similar to Synthe FX Luminaire iPhone App.  From what I understand, Martin and Synthe FX are talking and working out the issues.
MAXRemote is a free download from the iTunes App Store.
Share

Comments