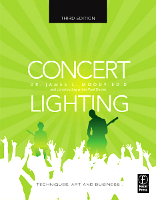 Looking to learn more about how to design and work on lights in a live event venue or concert setup? The latest book from Focal Press can help. In it's third edition, Concert Lighting: Techniques, Art and Business by James Moody and Paul Dexter take you on tour to get a first hand experience about what it takes to live on the road and work in one of the most demanding work conditions, the live concert world.
With a focus on Rock and Roll, readers with learn about the people and history that shaped the field and made it what it is today.  The book also covers the use of computer aided drafting, moving lights, media servers, digital luminaries, LED units, protocol devices and how to determine the best equipment for a particular show.
The book also covers the importance of a contract and how to develop one for your personal use with examples and discussions with leading lighting designers such as legendary Broadway designer Richard Pilbrow.
Concert Lighting: Techniques, Art and Business goes is on sale through Focal Presses website, www.focalpress.com as is expected to start shipping at the end of September.  Pre-order your copy of the book now for only $49.95 USD.
Share

Comments