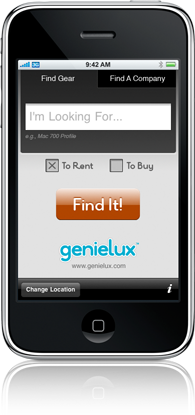 I just heard from Zinman Software, you know the iPhone App Developer that brought us ML Finder, Portfolio and other wonderful lighting apps, that they have just released another app.  Rather then bore you with my wittiness, here it is straight from the press release:
Genielux is a new breed of search. A smarter, quicker, easier and much more accurate search engine for the entertainment market. You may manage a company with a large inventory, or own a small boutique with specialized inventory, or you might be an individual that owns and operates a single piece of gear. No matter how big or small your inventory is, there's a place for you on Genielux.

Genielux is a comprehensive resource for producers, designers, and industry professionals to easily find rental gear and to purchase entertainment equipment anywhere in the world. Vendors can create an online company profile which includes their sales and rental inventory. Visitors can search for a specific piece of gear by model and geographic location. Genielux searches the extensive database and displays a list of companies by location matching gear for hire or sale.
Now here is the best part, Zinman Software needs your help! Keep Reading…
The website is www.genielux.com
Click on Sign Up Today FOR FREE

Your coupon code is: 48635836
This code expires 1/1/2010

After you have entered the promotional code and completed the registration, you will receive a confirmation email. It will say "You will be billed $2 USD monthly for your order (ID# xx)." But you will be charged nothing with this coupon. You won't even have to enter your credit card information. The $2.00 charge per month is what the cost is to join without the code.

It's very important that I get your feedback on your likes and dislikes about the signup process. If you have any suggestions or comments, I'd love to hear them. After all, this is what testing a product is all about.
Are you still reading this? Get over to www.genielux.com and sign up and beta test for Zinman Software NOW!!!
Share

Comments