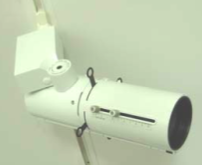 Selecon Lighting, those Kiwies from the southern hemisphere, New Zealand, are poised to announce the release of a new architectural lighting fixture, the Selecon Display Profile. The fixture is designed for track lighting systems in architectural and museum lighting. The Selecon Display Profile, or SDP delivers 3-4 times the light output of the Aureol BeamShaper, (also from Selcon) with accurate shaping of the beam and precise pattern/logo projection. The SDP has a couple of choices when it comes to lamps, the first being a low voltage tungsten Halogen 12v 100w or a Philips Mini-Master 20w CDM lamp.
The SDP also has two choices when it comes to zoom systems, a 15º–35º and 25º–50º. The fixture also includes two front accessory slots for colored glass, gel holder or for an animation motor disc. The SDP utilizes a D size pattern for projecting a logo or any number of steel or glass gobos.
THe SDP fixture is expected to be officially released as early as USITT Stage Expo next month. There have been mumblings that the fixtures will begin to ship April or May. We cannot determine what sort of pricing the fixture will start at, but contact your local Selecon dealer for more information and for pricing.
Share

Comments