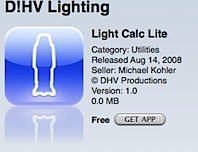 iPhone apps are growing in numbers on the iTunes Music Store. At the current count there are over 10,000 iPhone apps available through iTunes. We have recently performed a search on iTunes for apps specific to the entertainment lighting industry and have found just a hand full off apps. Quite a few of the apps seem to do the same basic operation such as either calculating the DMX address of a fixture with dip switches or finding the beam angle of a light.
A little known app for lighting that was released in August last year has just caught our attention. Light Calc Lite by D!HV Lighting performs one operation and does it well. While this is a lite version and thus free on iTunes, it is a water down version of it's big brother, Light Calc, which is a paid app.
While the Light Calc Lite is a nice little free app that does what it says, the user has to have some have basic information about the lighting fixture before they can calculate the field and Beam diameter. While this information is not hard to find on a fixture manufacturers website, it is just one more step to complete the task at hand. Honestly, what do you expect for a free application?
On the other hand, the big brother app to the Light Calc Lite, the Light Calc is a paid app, it has some more advanced features included. One of these features that it has the profile information about commonly used fixtures already built into the application, thus not needing to find the information some where else.
Though reading through some of the comments left by users about the Light Calc on iTunes, the fixture library is some what lacking in fixtures and might not be worth the investment just yet. The developer has recognized this issue and is in the process of adding more fixtures to the library. No time frame has been set.
You can download the free version, Light Calc Light here from iTunes. The paid version, Light Calc can also be downloaded from iTunes here for $ 4.99.
Share

Comments