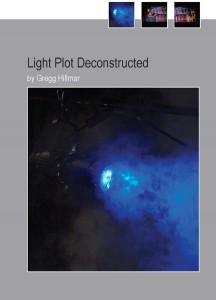 Less then a month ago, we wrote about a new book on the market designed at understanding how a lighting plot is laid out called, Light Plot Deconstructed, By Gregg Hillmar.
The author and distributor, Nemetschek, (the makers of Vectoworks) was kind enough to send us an advanced copy to do a review for you, our valued reader. First a little background on the book from the author and publisher:
Light Plot Deconstructed is the debut work of accomplished scenic and lighting designer, Gregg Hillmar. Mr. Hillmar has developed proven methodologies for drafting light plots over his more than 15 years of experience using Vectorworks. His successful methods for designing with Vectorworks have been exhibited many times over the years, whether it was to fellow colleagues at tradeshows, or in the classroom where he has taught scenic and lighting design to many aspiring professionals at Randolph-Macon College. Light Plot Deconstructed is a great companion guide for anyone seeking to learn the fundamentals of lighting design with Vectorworks Spotlight.
To read the entire review, click
First we must start with the title of the book, Light Plot Deconstructed.  Why such a name you might ask.  Well, Mr. Hillmar starts by breaking down the light plot and what it all means.  Thus deconstructing the light plot to understand each element and how it works and why it is there. The book is a cross between a manual and a reference guide on how to setup and lay out a professional lighting plot within Vectorworks 2009.  Mr. Hillmar makes it clear right from the start that while these are his methods and how he works within Vectorworks to construct his light plots, they may not work for you.  Like any good professor, take what you have seen here and make it your own.
"I don't like my plot laid out like that, I like my title block here, rather then there."  Fine, put it there and make it your own.  This is just one persons view and method of working and it works extremely well for him.  Some of the information contained in the book spells out some useful and interesting ways of using tools and methods contained within Vectorworks.  Thus giving the manual the "manual" feel, but in a good way.
Thus bring us to our next point, the physical construction or type of binding the author and publisher decided with.  Rather then using the traditional Stitch binding found is so so many text books and manuals, they decided on a spiral binding.  At first this seems like a poor choice or a cheaper method of publishing a book.  But on the contrary my dear Watson.  The spiral binding allows for the book to lay flat on the table or desk while following along at the computer.  A wise and much appreciated consideration as often stitch books, no matter how hard you try, tend to close on themselves or change your page for you.
Within the introduction of Light Plot Deconstructed. Mr. Hillmar makes it very clear that he is and always will be a mac user and thus the screen shots used in the book are from his mac.  But that does not limit this book being useful to just mac users.  Mr. Hillmar understands that not everyone is a mac user and still uses windows.  That is why he gives the keyboard and menu items for both mac and windows were they differentiate from each other. And of course, there are some limitations between the two operating system that he touches on within the chapters of the book.
Overall, Light Plot Deconstructed is a wise investment in your future if you plan on creating light plots, theatrical drawings and paper work with Vectorworks 2009. It is a perfect size to stick in your briefcase or backpack to pull out as a reference guide. Light Plot Deconstructed retails for $40 and  is now ready to ship from both the books website, www.lightplotdeconstructed.com and Nemetschek website, www.vectorworks.net. You can reach the author, Gregg Hillmar at his website, www.hillmardesign.com.
Share

Comments