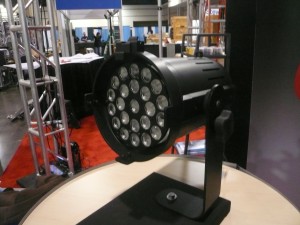 We received a bit more information from our inside source at Wybron about their plans for tomorrows announcement at the WFX show in Charlotte, NC.  Wybron is set to announce their first LED fixture in a new series of fixtures called the Cygnus.
The Cygnus uses 23 Cree homogeneous RGBW LEDs to produce over 4500 lumens of output with only 200 watts of power. The Cygnus has a CRI or Color Rendering of 92 and can produce smooth fading between colors while still being able to perform instant color bumps.
The LEDs have a lamp life of 60,000 hours which are cooled by an advanced heat management system which is super quite. The Cygnus weighs in at just under 15 lbs and runs off an auto sensing 100-240VAC power supply.
The Cygnus also has 5 pin DMX in and out as well as RDM control built in.
Look for more information about the Cygnus on Wybron's website, www.wybron.com tomorrow after they announce it at the WFX Show.
Share

Comments