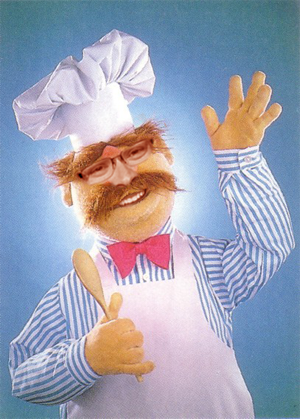 A good friend, fellow blogger and contributing author, Jim Hutchinson from JimOnLight.com heads to Sweden this week.  Jim is heading over the great big blue to study, you guessed it cooking… just kidding.  Jim is heading to Sweden to study lighting design for a year.
All of us here at iSquint wish him safe travels and of course BREAK-A-LEG.  But seeing as he is going over sea's, we have a couple of tips for him.
1. DO NOT MENTION THE MUPPETS SWEDISH CHEF.  I really think Sweeds resent Jim Henson for that character!
2. Don't forget your pass port.
3. Swedish meat balls are just called meat balls over there.
4. Play nice and don't get into any fights, we don't want to see any notes come home from the principals office.
5. In Sweden IKEA is a cheap store, not a trendy store and you STILL have to put it together yourself.
6. recyling there is HUGE, as in jail time for litering.
Don't forget us "snooting American's" only a couple of hours behind you.  From all of us at iSquint, we wish you the best of luck, safe travels, and the strength to remember a good swedish meat ball recipie!
Share

Comments