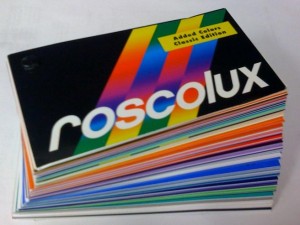 Today we start the first Tuesday Twitter Trivia.  This week we have a very generous offering from Rosco US, a RoscoLux 6″ x3″ gel swatch book to give away (pictured left).  Once a winner has been selected, we will contact them and then announced here on iSquint and Twitter.
The 6″x3″ gel swatch book is great for testing color mixing with a larger source then the standard gel swatch book.  It is a handy tool for lighting designers, students and professionals to have in their lighting tool box.
The rules are simple.
You must follow us on twitter
send your answer via Direct Message via twitter to @isquint
We will not accept reply messages via twitter, also, not a good idea, everyone will see it! ;)
Have your answer in by 5pm EDT
First correct answer wins
Only open to US residents
Simple enough right?  So this weeks question is….
What are the 3 newest colors added to the Roscolux gel swatch book?
Please give the Roscolux number and name of the gels. Thanks and good luck!
Share

Comments