The developers of such iPhone apps as BeamCalc, PowerCalc and DMXCalc has announced the arrival and release of two new iPhone apps for the entertainment industry.  West Side Systems just announced the release of Step Timer and Show Timer iPhone apps.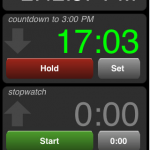 Show Timer is a multi-purpose timer designed specifically for stage and event managers.  The stopwatch timer provides basic start, hold, continue, and reset functions.  Use it to time rehearsals or performances.
Show Timer keeps a log of all timing starts and stops.  The log is fully editable and in it phrase book can define phrases like "Act 1" or "Intermission" to paste into the log without typing.
Show Timer runs $2.99 via the iTunes App Store.
---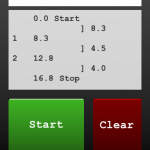 Step Timer is a basic timer for mapping out simple or complex multi-part timing sequences in sound, lighting, projections, animation, video and film.
Tap Start to start the timer, Each time you tap Mark it will record both the total elapsed time and the interval since the last mark.  Set accuracy to 1/10 or 1/100 of a second, or to 24, 25, or 30 frames per second.
Step Time runs $0.99 via the iTunes App Store.
Share

Comments