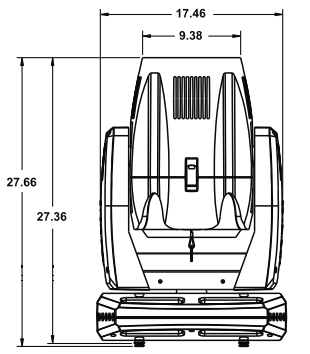 Vari-Lite has released a preliminary spec sheet on their up coming VLX LED Wash Light. Some of the interesting points of from the Spec Sheet.
Smooth, high resolution dimming control of R,G,B, and W LED's.
Seven x 90 watt RGBW CBM380 LED chipsets. Each chipset contains high density red, green, blue, and white LED emitters.
Patented, 3:1 optical system with continuously variable field angle from approximately 22° to 60°.
Color Temp. White: Variable between 3000 and 6500 degrees Kelvin. CRI: 93
Manufacturer Rated Life: In excess of 50,000 hours. (L10 – 70%) Output: Exceeds 10,000 lumens.
62 lbs. (28 kg.) with included pair of hanging rails.
The luminaire offers five-pin DMX in and thru connectors, Ethernet input, and a backlit menu panel for easy installation and operation. Control is achieved through a variety of DMX consoles and output devices. Large, rugged handles  insure easy installation, and subdued style and understated lines allow for seamless integration into any lighting rig or stage setting. Pan and tilt transport/service locks and low fixture weight make moving the VLX as simple and efficient as it's
operation.
To learn more about the VLX LED light from Vari-Light, visit their website at www.vari-lite.com.  Prices have not been released, but fixtures are expected to begin to ship towards the end of April, beginning of May.  For pricing, visit the dealer section of Vari-Lite's website.
Share

Comments