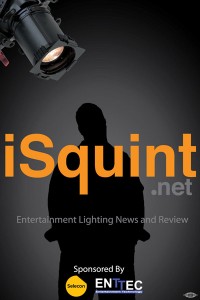 Today is the start of the USITT 2009 Conference and Stage Expo in Cincinnati, Ohio.  The doors have opened to the Stage Expo and the show floor is filling up nicely. Throughout the day we will be updating events and products announced at the show live, right here on iSquint.net.
If you are attending the show, be sure to stop by our sponsors booths to pick up a copy of the 2009 iSquint-USITT poster:
Selecon Lighting – Booth 650
Enttec/Stage Research – Both 1040
If you are not attending the USITT Stage Expo, be sure to download a PDF of the 2009 iSquint-USITT poster here, or by clicking the poster to the left.
Follow all updates on the USITT Stage Expo by following our RSS feed here.
Share

Comments