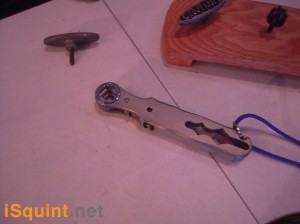 While down in Orlando, StageJunk announced the release of their latest Ultimate Tool, the Ratchet Ultimate Focus Tool.The new tool looks and feels just like the previous tool, the Ultimate Focus Tool, with one exception, the Ratchet.
StageJunk has taken the all aluminum tool and re-engineered the wrench portion of the tool to incorporate a fully ratcheting wrench. The tool still has the great features that we know and have come to love, such as the pin splitter, the continuity checker and of course, the ability to open a bottle of beverage.
Rob Junk, the owner and name sake of StageJunk took time out of quite busy booth at LDI to give me a quick run through of his latest tool, the Ratchet Ultimate Focus Tool.
Share

Comments