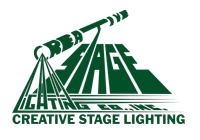 We received a message from Kevin Loretto of Creative Stage Lighting about their latest webinar coming up on May 28th, Choosing Consoles and Moving Lights: the Latest Trends in the Marketplace.  The webinar will be moderated by Kevin Loretto and Michael Nevitt, both with Creative Stage Lighting.
Topics Include:
What does your production require?
Planning for future growth
Networking your venue or production
Green or not green? (LEDs vs. Conventional lighting)
Be sure to sign up for the webinar hosted through GoToMeeting.com.  It takes place on May 28, 2009 from 3:30pm – 4:30pm EST.
About the Presenter:
Michael Nevitt is a veteran of the lighting industry and serves as Product Manager at Creative Stage Lighting.
Nevitt's design and automated lighting programming experience includes work he's done for feature films such as The Grinch, Batman & Robin, The Flintstones in Viva Rock Vegas, and Miss Congeniality. In addition, he has worked on top sporting events like the Salt Lake Olympics, Super Bowl Half-time show and the Ryder Cup Opening Ceremonies.
Nevitt also brings Product Management experience from Martin where he worked on the development of Martin's Maxxyz Console and Maxedia Media Server.
Share

Comments