This month, I interviewed James Bedell, a lighting designer that got his start in the theatre world and has since found a wide variety of work in the architectural and corporate lighting markets.  Not to long ago, James got involved in design high end residential, commercial and retails spaces all around the world. More recently, he is a lighting designer for Abercrombie and Fitch working with head of lighting design Andrew Thompson. He continues freelance work, recently designing pop-up stores for Diet Coke in NYC and Boston.
In regards to paperwork, how has that changed from when you started to where you are now?
When I started everyone told me YOU MUST USE LIGHTWRIGHT. Everyone expects spreadsheets to look a certain way there MUST be a Channel Hookup, Instrument Schedule and a Color List. All those things are still necessary but not necessarily sufficient. I find my paperwork evolving on a case by case basis. I do more architectural work now than entertainment. So I don't use Lightwright any more, I use MS Excel because it's common, and I know whether I'm walking into a regional theater in Rochester or a new store in Tokyo people will be able to read the file.

Light plots are obviously a must for theatrical productions and Vectorworks is still my weapon of choice. That said architectural paperwork is generally created and maintained in AutoCad, which I use far more often.

But when it comes to paperwork now, I'm becoming more and more obsessed with documenting design decisions for future replication. When I have to light a 4 story mural, and have my boss, my boss' boss, and my boss' boss' boss sign off, I want to make sure it looks the same a year from now. That means lots of documentation of barndoor apertures, lots of images, and concise readable documents.
What are your thoughts on LED's in general for use within the industry?
LEDs are the future of lighting design there isn't much question about that. But there are some big barriers to wide acceptance. First off all theatrical LDs and Architectural LDs see this issue almost completely differently. Since I sit somewhere in between I get to play both sides of the fence on the one hand the simple tech geek in me loves seeing all the new toys, and in entertainment projects I like to test them out. But for architectural applications, you have to be more careful and bin matching (so that 3000k really means 3000k) is still not where it needs to be.
What challenges do you face with the ever changing console architecture?
Since I do less entertainment work now adays I feel like I need to come back to console land and relearn everything. Most of my advanced lighting control needs surround LEDs and scenes in an architectural application. But the next time I do a big show, I'll need to sit down with a programming pro and decide what console is right for my project and my lighting style. When I work on a show, particularly a theatrical production I find myself inserting dozens of cues, cue 25 morphs into cue 25.9 because I decided to build in a 4 step fade. I love to bring cinematic transition to theatrical work, and often, especially with limited budgets your cueing structure can go a long way to enhancing the look and feel of a show.
Does 3D rendering provide a reliable method for developing a concept while designing out a production?
I think 3D rendering is subject to the law of diminishing returns. The time it takes to build proper renderings often doesn't justify what you can do with a pencil and scale ruler. The technology for rendering has gotten better and better, but I need the whole process to happen faster or it's not worth it.  If I can sit with a plan, elevation, and section, my swatch book and a pencil and do the same thing in 1/2 the time, then I'll do that.

The only caveat there is the client. Sometimes, a detailed shining rendering in 3D sells them on your concept in a way words and sketches can't…as a communication tool sometimes it is totally worth the time investment.
Do you feel that projection media is a form of lighting or should it be considered a separate field?
Projection media isn't lighting design. But just like the scenic designer or working with an architect, they are an integral part of the design team. Far too often I see projection design and implementation back-ended on a production to the detriment of all the other design disciplines.
Looking back at a past production, how would you change it with some of the latest technology out on the market today?
When I did the Crown Point Festival a few years ago, in the interest of the budget I ended up trying to use what was in house and minimize my rental. This was the wrong move. In the end, I would have done more every production on the roster if I had a moving light package LED wash lights and a kick-ass programmer. Instead I tried to go low-budget theater on it, and gave everyone headaches.
What new or upcoming technology has the potential to change the lighting industry?
LEDs and lighting control systems are still the most rapidly evolving technologies out there. Both in the architectural and entertainment worlds. Is anyone specifying the same LED fixture and console they were 5 years ago? No way…the technology is moving way too fast for that.

Look for LEDs to get brighter with better white color matching, and look for consoles to become more and more user friendly, more software based, less button pushing.
What advice can you give to a beginner looking to make it in the industry?
Diversify. I love theater and dance, deeply. If I could do nothing but lighting dance everyday, I'd be a happy guy. But the truth is this industry's main growth sectors aren't in traditional theatrical entertainment, but in architectural lighting and in so-called "architainment" a major retail trend is surrounding the idea of "the experience economy" these are major opportunities for LD's so, I would say, think outside the theatre.
Do you have any tech-table rituals or traditions?
I can't say I have a tradition. But I do need a wide berth at the tech table. When I light a production I become something of a surrogate director, I love to stand up, point, move my hands around….really explain what I'm going for. Tech is fun for me…
What is your favorite gel color and why?
This is an odd one, but R53 became a favorite of mine when I coordinated lighting at the Schimmel Center at Pace University. There was a ton of even turn over, and lots of corporate conferences to light so I found myself experimenting with new key light and wash light colors. I found R53 to be the color that highlighted various skin tones when mixed with an N/C key light. And I didn't go to Yale, so I don't have to use L201 for everything.
More about James Bedell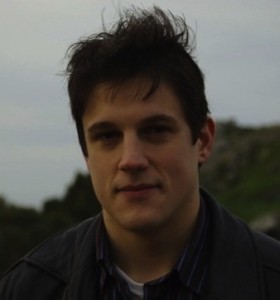 James studied lighting design at Pace University, where he went on to become lighting coordinator for the Schimmel Center for the arts. Coordinating the lighting needs for a wide variety of clients from Inside the Actor's Studio, to MSNBC, the Beijing People's Theatre and a wide variety of corporate, theatrical, and dance clients (he even got yelled at by Kanye West once). James developed his skills while lighting a wide variety of off and off-off broadway productions in NYC. Since then he's moved into architectural lighting. Three years ago, he began working for Tirschwell and Company, designing high-end residential, commercial and retail spaces. More recently, he is a lighting designer for Abercrombie and Fitch working with head of lighting design Andrew Thompson on flagship stores around the world. He continues freelance work, recently designing pop-up stores for Diet Coke in NYC and Boston.
You can read and learn more about James at his websites, jamesbedell.posterous.com or www.build2sustain.com.
UPDATE: I corrected James name, sorry about that!
Share

Comments