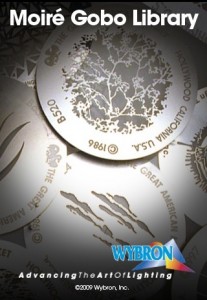 A new version of Wybrons Moiré Gobo Library iPhone App is right around the corner. In the update version of the app, Wybron has included gobos from Goboland, inLight Grayscale and GAM Halftone gobos.
That means from the original 1,500 gobos that you were able to select from, you now have over 5,000 gobo's to choose from all right with in the app. That is 6 different manufacturers of gobos!  All searchable by title, stock number as well as browse by type, such as Trees.
Current owners of the Moiré Gobo App can download and upgrade to the updated version next week when it added to iTunes. For new users, the current price on the Moiré Gobo App is $10 through iTunes.
Share

Comments