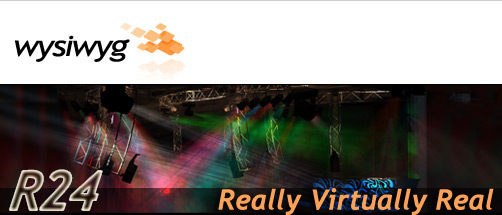 Jim Hutchison from JinOnLight.com was kind enough to allow us to re-print parts of his recent review of WYSIWYG Release 24 by CAST Software. WYSIWYG, (What You See Is What You Get). is a Pre-Visualization software package to plan and design your lights for theatre, events, concerts, whatever, WELL before loading in a single piece of gear into the space. You can see you lights fuction in real time in the virtual stage. Without further ado, here is a sampling of Jim's review which you can read in it's entirety with pretty pic's at JimOnLight.com.
Over the last few weeks I have been testing out Cast Lighting's new release for WYSIWYG – Release 24.  In the last year, R22 and R23 have revolutionized the way that we've been thinking about viz software, and R24 is the crown jewel of the improvements in R22 and R23.  The real-time rendering engine in R24 is so full of awesome that there is next to no need to sit and wait for a rendering of the look.

The interesting movement in R24 is that the processing feels like it has been allocated in the most efficient way – meaning graphic properties seem to be moved to the GPU, and numeric functions have been retained into the CPU.  I could be totally off here, but I have used the program on a very, very slow machine and on my laptop, which is configured to be a desktop replacement.  Nothing lags, nothing drags, and I have not crashed it yet.  Believe me, I have been trying!

There are some excellent new features in Release 24 that everyone should know about – from the ability to snap a pic of your instrument's focus and send it up to the electrician in the cherry picker for focus, to live beam-in video for digital lights across a network:
You have to visit JimOnLight.com to read the rest of his review.  Thanks Jim and great job!
Share

Comments