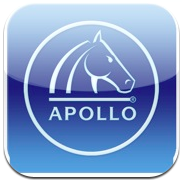 I spent a bit of time talking to one of my favorite people from Apollo at LDI, Melissa Irk. Melissa mentioned to me that Apollo Design just released it's iGobo App for the iPhone, iPad and iPod Touch. Now you can browse all of Apollo's stock gobo's in one place, well, actually two places, the iGobo App and the Moire Gobo App from Wybron. The difference being that the iGobo App is a FREE download.
Here is a bit more about the iGobo App:
Apollo's iGobo allows everyone involved in the art of lighting design to conveniently view full screen images of the company's extensive library of standard metal and glass patterns. The Apollo iGobo feature list includes:
2000+ metal, SuperResolution glass,1-color glass, 2-color glass, and ColourScenic gobo designs
Search the gobo library by name, number, or keywords
Compare up to four gobos at a time on the screen
Rotate an image at variable speeds, either clockwise or counterclockwise
Stack two images and rotate the bottom image in either direction
Maintain a favorites list
Email a single gobo or your complete favorites list
More features to come on future versions
Fire up your iTunes App store and download your free copy of iGobo from Apollo Design. Be sure to connect to a WiFi access point when trying to "purchase" and download the iGobo App.  At 105mb, AT&T will not let you download it over their data network.
Share

Comments