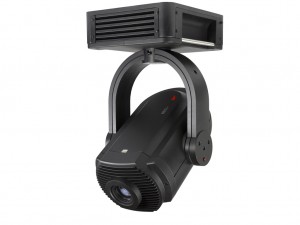 Digital and automated lighting pioneer Barco announced today the release of a fully optimized digital lighting package that harnesses the high brightness and DLP®-quality video capabilities of the DML-1200 digital light and combines it with Axon Media Server. This improved solution offers tour companies, corporate events managers and fixed installations, such as houses of worship, expanded opportunities for creating dynamic, multi-faceted shows in a variety of rental and fixed applications.
The DML-1200 w/Axon advances the product line's core capabilities by virtue of its Version 2.0 software, offering up to nine media layers, keystone and digital shutter features, enhanced Collage Generator™ and curved surface support, unlimited effects, and over 1,200 pieces of royalty-free stock content. When combined with the DML-1200's fast 4:1 zoom, warping and edge blending for external inputs with virtually no frame delay, and light mode with CMY color mixing abilities, the DML-1200 w/Axon provides users with a full complement of unique features.
To learn more about the newly enhanced DML-1200, head over to Barco's website, www.barco.com.
Share

Comments