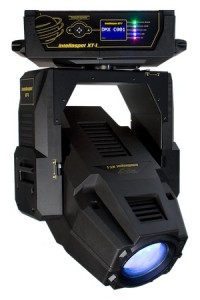 Not to long ago, Barco/High End Systems announced their latest moving light, the intellaspot XT-1.  Good news, Barco/High End Systems has just begun shipping the fixture to customers.  Here's more info from Barco's updated press release:
Digital and automated lighting pioneer Barco/High End Systems announced today that it is now shipping the intellaspot XT-1, an innovative, full-featured hard-edged moving yoke light offering a new benchmark in a price/performance ratio.  The intellaspot XT-1 features remarkable innovations in optics, lamp configuration, high lumen output, energy efficiency, zoom range and more for a highly economical price.
The intellaspot XT-1 features a powerful optical system, producing an extreme 20,000 lumens output from the 850w HID lamp, while also providing clear projections with a large zoom range of 11°- 55°.  It features a fast mechanical iris, variable soft edge, and electronic strobing, in addition to smooth CMY color mixing and variable CTO.  A fixed color wheel allows instant color choices via easily exchangeable dichroic filters.  Two rotating Lithopattern® wheels, each with seven patterns plus open, provide a large number of output patterns and images.  The output can be further enhanced with a rotating prism and an animation wheel.
Built on an entirely new platform, the intellaspot XT-1 is an exceptionally energy-efficient fixture that conforms to modern "greening" principles.  A battery-controlled full color LCD menu system enables fixture addressing without having to power up the unit.  Low ambient noise, Remote Device Management (RDM), Art-Net, and wireless DMX capabilities make the intellaspot XT-1 the professional choice for a wide variety of applications.
Check out more details about the intellaspot XT-1 by visiting Barco/High End Systems website, www.barco.com.
Share

Comments