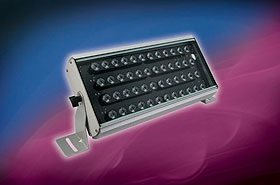 Boca Flasher, an LED Design and manufacturing company out of Florida just announced the release of their latest LED product, the SBL-WWW BrickLight. Typically when we talk about LEDs we see RGB, RGBW, RGBAW, but WWW? Boca Flashers SBL-WWW is an all white LED fixture with 48 high output, white LEDs per linear foot at 1.2w per LED and a CRI rating of 92+.
There are 6 color temperatures available with the SBL-WWW fixture, 2700, 3000, 3500, 4100, 5000 and 6500k. The SBL-WWW uses CLD control technology that insures smooth linear response across the complete dimming curve (0-100%).
In addition to color temperature choices, the SBL-WWW is also available in 1ft, 2ft, or 4ft lengths as well as a wet or dry model. The fun doesn't stop there.  You also have the option to choose between a DMX or standard dimmer control.
Want to see more?  Visit Boca Flashers website at www.bocaflasher.com to learn more about the SBL-WWW Brick Light and located a Boca Flasher dealer near you.
Share

Comments