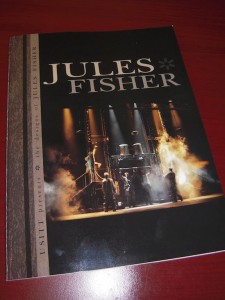 The history of lighting design is taught in almost every entry level theatre appreciation class at the college level in the states.  It almost every textbook associated with that level of class gives a brief and limited lesson of the history of lighting design and the pioneers of the our field. It's in these classes that we begin to hear the names Appia, Melziner and other designers that shaped our future and formed the foundation of what we know and understand today.
But what about current designers and leaders in our industry?  Information and the history of designers of the late 20th century can be difficult to locate. The United States Institute for Theatre Technology is out to change that.  In the past year, USITT has released two books that help shed light on our not to distant past.  One of these books is The Designs of Jules Fisher by Delbert Unruh. As you might be able to tell from the title, the books is about the life and designs of legendary Broadway lighting designer, Mr. Jules Fisher. The book is a biography of sorts detailing the early life of Mr. Fisher and how magic influenced his life long passion for the arts and specifically lighting design.
John Lahr, senior drama critic for the New York Times and a a well-respected connoisseur of theatre in New York provided the foreword to The Designs book and writes with great passion and praise of one of Broadway's leaders in lighting design. His words set the stage perfectly:
"If Babe Ruth was the Sultan of Swat, it could be said that Fisher, who has done the lighting design to over a hundred Broadway productions as well as the lights for such iconic New York pleasure domes as Studio 54, is the Sultan of Watt.  If he were one of his lights, in terms of his accomplishments (he has eight Tony Awards), Fisher should be a pin spot: bright, intense isolated in his uniqueness from every one around him. But Fisher, who is a gent as well as a giant in his field, gives off a cooler radiance: he's an amber gel, I think: limpid, subtle, blending with the world around him."
With praise and affection like this, it warms my heart that somebody truly recognizes what we do is an art. Fisher deserves this type of recognition as he has worked in the industry for most of his life and has dedicated his time and energy to innovation in lighting and developing techniques to accomplish dazzling effects and moods on stage. It is with this sentiment that The Designs as written.
With any biography, you can expect to learn and understand more about a person. This, of course, holds true for The Designs of Jules Fisher, but in a different way. While the book begins with the early years of Fisher's life, we learn how magic and curiosity played a huge roll in developing one of the most well-known lighting designers Broadway stages and the silver screen has ever seen. After learning what has and continues to influence Fisher's passion about lighting design, the book begins with his early career starting off with his summer job at Valley Forger Music Fair in 1954, his move to New York City in 1959 to work off-Broadway, and forward through the years.
The book is a time line of Fisher's distinguished lighting design career and each show he's lit. Along the way, the authors interject Fisher's fondest and most memorable moments of each show and provides a bit of insight into what it was like.
All throughout the book, there are numerous amounts of production photos, lighting plots, and drawing details are included to help illustrate Fisher's hard work, determination, and drive to advance the art of lighting design. Fisher is an innovator and throughout his career, he's developed unique devices and lighting solutions that had never been though of before.  Scattered in the book are drawings of these solutions to problems that Fisher faced, such as designing a light that is able to pan and tilt remotely. Something that today's designers take for granted was only just a dream until pioneers like Fisher started daring to dream big and take a chance on developing these types of off-the-wall ideas for their time.
The Designs of Jules Fisher provides an excellent overview of one of our industries leading designers, what influenced him then and still does today, and how he became one of the most successful lighting designers of our time. I have mentioned this before, but in order to understand where we are going and what is to come in our industry's future, we must learn from past — learn about where we came from. History has a funny way of repeating itself. With the knowledge of our past, we can move forward and innovate in the same spirit as our predecessors and do the same for future generations of designers.
As a history buff and lighting designer, I recommend reading The Designs of Jules Fisher.  Not only does it paint a wonderful picture of the life of a great designer, but provides lessons for future designers on what it takes to not only practice our craft, but to be great at it.
In addition, Fisher shares his knowledge and passion of lighting by educating and developing the minds of future lighting designers through the Broadway Lighting Master Classes.  Mr. Fisher serves as the Creative Director of the event held in the spring time in New York City and hosted by Live Design. Mr. Fisher brings in some of the most well respected Broadway lighting designers of our time to share their passion and understanding of light.
With the book, The Designs of Jules Fisher and contributing his time and knowledge of the industry with the Broadway Lighting Master Classes, Mr. Fisher is ensuring the development of not just our industry, but the designers of today and into the future.
You can purchase a copy of The Designs of Jules Fisher through the USITT website.  Current USITT members pay $30 USD while non-members can purchase the book for $35.00.
Share

Comments