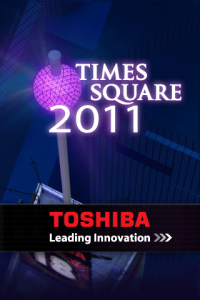 There is just under 35 hours left in 2010! I have heard that celebrating New Year's Eve in Times Square is something not to miss, the lights, the partying and just the excitement of what the New Year will bring.  If anything, it is something that you have to try once in your life.  I personally still have not made it up to New York City for New Year's Eve, but it is on a list some where of things to do.
Since most of us can not make it to Time Square in 35 hours to celebrate the dawning of the New Year, why not bring the Times Square celebration to your iOS device?  That's right, Apple's tag line for iOS apps hold true once again, "There's an app for that".
Countdown Entertainment, the iOS developer of the Times Square Offical New Year's Eve Ball App – 2011 has announced the release of the app into the iTunes App Store! It brings New Year's Eve in Times Square LIVE to your iOS device.
Some of the features of the app:
Submit your New Year's photos of friends and family for others to vote on. The most popular photos will be featured on the Toshiba Vision sign atop One Times Square, right below the new Year's Eve Crystal Ball.
Get live updates about news, weather, photos and the LIVE show schedule happening December 31st in Times Square
Send New Year's Eve Kisses to friends and family
Watch live streaming of events in Times Square leading up to New Year's Eve
Customizable Countdown Clock with Time zone recognition.
Chick-in via Foursquare, Facebook and twitter to find out how far away you are from Times Square.
What a neat app right?!  Best part… FREE!  Head over to the iTunes App Store and download a copy for yourself and start celebrating!
Share

Comments