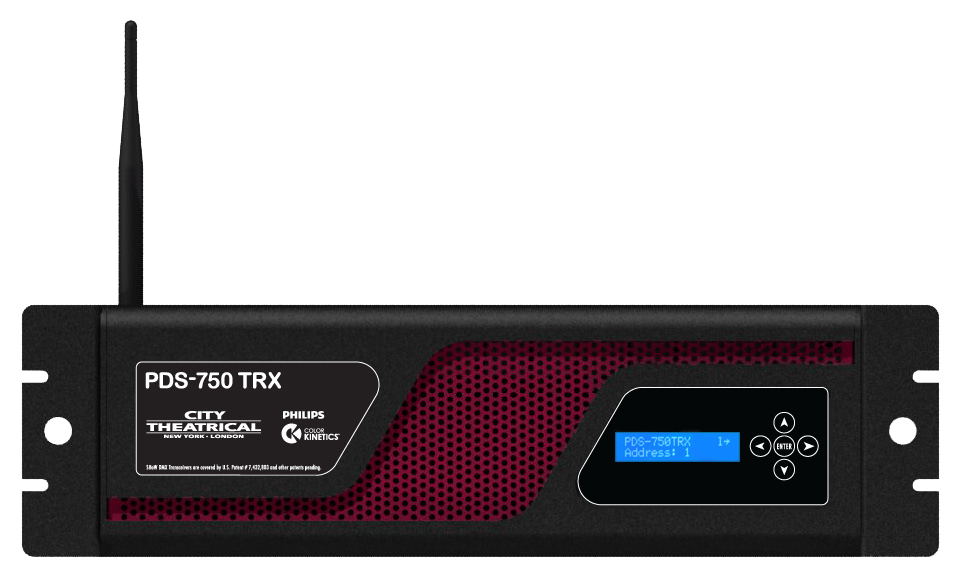 City Theatrical is up to it again, making all kinds of crazy awesome wireless products. The latest one is the PDS-750 TRX Power/Data Supply for Color Kinetics LED fixtures.  Not only does the PDS-750 offer Streaming ACN, Art-Net and KI Net protocols, but also wireless DMX via their popular SHoW DMX.  To make the PDS even more functional, City Theatrical has included fully RDM reatures to the box.
The PDS-750 TRX provides full control capability for the new Philips Color Kinetics ColorBlast 12 TRX, as well as 16 bit and 8 bit ColorBlast 12 TRs, iW Blast 12s, and conventional 8 bit ColorBlast 12s, ColorBlast 6s, ColorSplash 2s, and other CKDMX fixtures, and it can control any mix of these fixtures without wasted DMX Slots.
The PDS-750 TRX units come with a rugged NEMA 1 steel and aluminum enclosure. It's rack-mount ears can double as pipe mount hangers.
It features multiple data I/O ports, including E1.11/1.20 (DMX/RDM) via XLR 5P, E1.31/1.33 (Streaming ACN) via etherCON, Art-Net via etherCON and wireless SHoW DMX standard on each unit. It also features an Ethernet pass-thru—E1.31/1.33 gateway via XLR 5P when E1.11/1.20 not in use, Art-Net gateway via XLR 5P when E1.11/1.20 not in use.
For more information on the PDS-750 TRX, head over to www.citytheatrical.com or www.colorkinetics.com.
Share

Comments