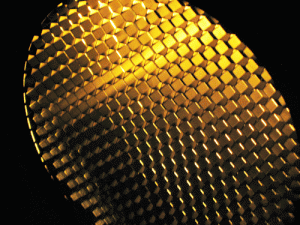 City Theatrical just put out their March Newsletter with a bit of interesting news.  Looks like City Theatrical is starting to make accessories for Vari-Lite's VLX LED moving Light. In the announcement of the Vari-Lite accessories, City details why and how they come up with lighting accessories for different types of lights.  A pretty interesting read.
So what are these new accessories for the VLX?  The first one, pictured to the left is City Theatricals, VLX Louver, Part number 2661.  The louver helps stop light leak out the front of the fixture and helps focus the light beam.
The other VLX accessory is the VLX Top Hat, part number 2660.  The top hat is pretty easy to understand what it does. The two new Vari-Lite accessories have not made it to City Theatrical's web site yet, or a price posted either.
Visit City Theatrical's web site at www.citytheatrical.com to sign up for their newsletter at the bottom of the home page.
Share

Comments