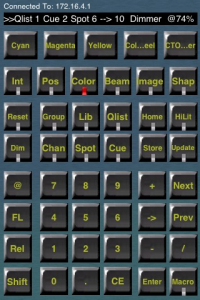 Just the other day, Compulite announced the release of their latest software update to their Vector series line of control desk, version 3.18R01.  Following right on the heels of that release comes the announcement of their iPhone, iPad and iPod Touch app, iControl.
Compulite's new iControl App for the Apple iPhone and iPod is a powerful application to remotely control and edit basic functions of all Vector and Dlite lighting consoles.
The App provides real-time information of the Console through a friendly user interface. By using the iControl App, you are able to control moving lights, conventional lights, create and store cues and libraries, add groups, control highlight and lowlight and more.
The Application also allows you to control Pan and Tilt through an interactive trackball as well the ability to control all parameters using an interactive wheel, all from a remote location anywhere within your local area network.
Features include:
Full real-time control of vector or Dlite consoles.
An automatically generated IP list of Vector and Dlite consoles.
An echo line (Command line) displaying real-time state of the Console.
Constant connection monitoring.
Interactive wheel and trackball.
Multiple iControls can be connected to one console at a time.
Ability to control moving and conventional lights.
Create and control cues, libraries and groups.
Keyboard view of the Console.
Easy to read panel screen.
You can download a FREE copy of the Compulite iControl App from the iTunes App Store now.  To learn more about the App and Computlites Vector and Dlite series of desk, visit their website at www.compulite.com.
Share

Comments