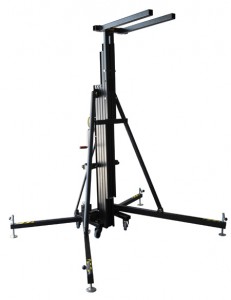 Creative Stage Lighting has been appointed the exclusive distributor of the VMB Towerlift range of products in North America. The New York based company will offer Sales, Service, and Support for the full range of VMB lift products, including the Classic, Pro, TL, GS, and PIRAM series of lifts and towers.
VMB offers a total of 14 different lift models, the largest selection on the market. The introduction of the TL-A Line Array lifts has attracted a lot of interest in the US with the product offering a practical solution for companies looking to set up a Line Array quickly and easily and above all safely. All VMB lifts are manufactured in Spain and offer the utmost in security, delivering the highest possible quality. The ALS (Auto Lock Security) is just one feature the Spanish company is keen to demonstrate to the US market.
Patented by VMB in 2004, the ALS automatically blocks the lift sections when rising, taking stress away from the cable and guaranteeing security at all times.
Learn more about VMB lifts, lighting and audio equipment by visiting their website at www.vmb.es
Share

Comments