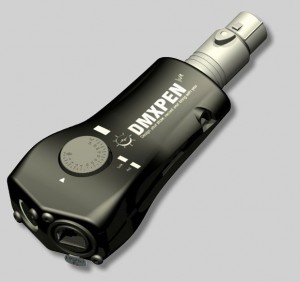 DMXPen Live is a DMX RECORDER which can record a show in real time and then play it back at the touch of a button. The length of the show recorded is dependent upon the size of the Mini SD card used; the DMX Pen LIVE is supplied with a 2Gb card which will record several hours of data using a proprietary data compression software. The rotary switch allows for 24 independent shows to be record and replayed.
Use as an emergency replay unit, if the lighting controller fails just plug in DMXPen LIVE and press play. Set up test routines for any dmx fixture, store different fixtures on different cards, have a faulty fixture on tour, simple, plug in DMXPen live and replay your test routines to check the fixture.  DMXPen LIVE includes MIDI Port and Ethernet interface which takes the Art net protocol allowing for Art net recording and playback. Additionally the Ethernet interface can convert Artnet to DMX and DMX to Artnet protocols.
The DMXPen Live has a retail cost of 380.00 Euros or around $500.00 USD. To learn more about the DMXPen, head over to the developers website at www.DMXPen.com.
Share

Comments