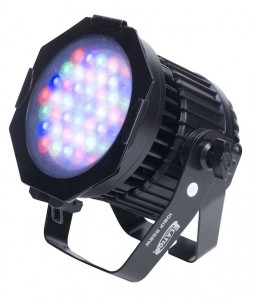 The great outdoors have gotten even greater, or at least brighter and more colorful, thanks to the new Elation ELAR 108 par. Housed in a rugged die cast aluminum case, the IP 65 rated RGBW LED was designed to meet the rigorous demands of outdoor applications, with a maximum operating ambient temperature parameter of 113° F, yet still with an LED life rating of 100,000 hours.
Featuring smooth linear RGBW color mixing and built-in color macros, the ELAR 108 offers infinite color possibilities to dramatize building exteriors, landscaping and other outdoor objects. The unit's light source comes from 36 x 3-watt single SEOUL semi conductor LEDs – 12 red, 9 blue, 9 green and 6 white.  Its smooth color mixing, flicker free operation and consistency of color from unit to unit, make it ideal for concerts, theatrical productions and video applications as well as architectural.
The ELAR 108 has a 10° beam angle, 22°field angle and a 15° lens as standard.  The included diffusion filter with gel frame provides for a 40° beam angle effect.  An available option is a barn door kit.  There is also upgradeable firmware available via the Elation E-Loader Data Pack.
There are two dimming modes available with the ELAR 108: linear and standard, both offer 0-100% dimming. The ELAR 108 also strobes at 18 flashes per second, has 1,672 total lumens, 4,480 lux and a 100 volt to 240 volt electronic switching power supply pulling a total of 120 watts at maximum output.
The ELAR 108 offers auto and manual control, and four DMX operational modes (4, 5, 7 and 9 channels), a 3 or 5-pin DMX input.  The unit also has 120 v AC ppg connector adaptors available for the IP 67 connectors supplied.  A user-friendly 4-digit LED menu display makes the unit easy to set.
Measuring just 12.4" x 10.6" x 14.5" (315mm x 269mm x 368mm), the 15.4 lb. (7 kgs.) ELAR 108 is easy to transport. Available in Black or Silver finish – the Elar 108 RGBW Par is cETLus approved and has an MSRP of $1,199.95.
For more information, visit Elation's web site at www.elationlighting.com.
Share

Comments