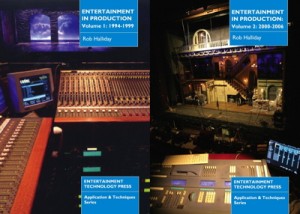 I just heard from my good friend and fellow console connoisseur, Rob Halliday that his books, Entertainment In Production, Volume 1 & 2 have been made available as e-books through Amazon.
While I am all about getting the books as e-books, I am still a little miffed that they are only available for the Kindle e-book reader from Amazon.  While there is a Kindle App for the iPhone and the iPad, I would love to see the books as native e-books for the iBook app on the iPad. But progress is progress and I can still read/carry them in my iPad.
Here is more information about the e-books from the Press Release:
Writer and lighting programmer & designer Rob Halliday's books Entertainment In Production vols 1 and 2 are now available to those who prefer their reading in electronic form, through Amazon's Kindle Store. This means that the books are available not only to readers using Amazon's Kindle, but also to those using the Kindle software on Apple's iPad and iPhone, on Blackberries, and on PCs and Macs.
The two Entertainment In Production books gather together more than a decade's worth of coverage of the creation of some of the world's most spectacular entertainment projects. The first, covering the period from 1994-1999 includes shows such as Cirque du Soleil's Mystère and O, the hit musicals Tommy and Mamma Mia, events including the spectacular design for the 71st Academy Awards and the 1996 US Presidential Election Conventions, the reconstruction of London's Lyceum Theatre and the creation of Las Vegas' spectacular Fremont Street Experience.
The second book, which covers the period from 2000-2006, includes such shows as the musicals Aida, Chitty Chitty Bang Bang, Fosse, The Woman in White and Mary Poppins, Baz Luhrmann's Broadway production of La Bohème, Cirque du Soleil's stunning KÀ, the remarkable Lake of Dreams at the Wynn Hotel in Las Vegas, plus New York's Tribute in Light.
The articles include insights from many of those involved in these shows, many of which were landmarks in entertainment design and technology; designers whose work features in the books include Acme Sound Partners, Francois Bergeron, Ken Billington, Andrew Bridge, Andrew Bruce, Bob Crowley, Jonathan Deans, Bob Dickinson, Michel Crete, William Dudley, Rick Fisher, Paul Groothuis, Wendall Harrington, Mark Henderson, Howard Harrison, David Hersey, Natasha Katz, Luc Lafortune, Nigel Levings, Matt McKenzie, Anne Militello, Tony Meola, John Napier, Nick Ormerod, Chris Parry, Kenneth Posner, Paul Pyant, Mike Walker, Anthony Ward, Patrick Woodroffe and many more. Rob Halliday was directly involved in the creation of a number of the featured productions, giving a unique insiders view from behind the scenes on these shows.
For more information of the books, visit the dedicated web site at www.entertainmentinproduction.com. You can purchase the e-books from the Amazon.com bookstore for $15.95 each.
Share

Comments