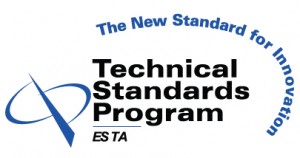 At the end of January, ESTA announced the release of two Control Protocol Draft Standards for Public Review.  As with any draft standards put out for public review from ESTA.  People that have interest or knowledge of the specific standards are highly encouraged to read and comment on the drafts before they are no longer available for public review.
Here are the two Control Protocols  up for review:
BSR E1.30-1-20xx, EPI 23. Device Identification Subdevice
This document is part of BSR E1.30, Application level equipment interoperability for control of commonly encountered entertainment technology devices using ANSI E1.17. It specifies a templated device for device identification as typically used for remote hardware and software devices.
BSR E1.20 – 201x, Entertainment Technology — Remote Device Management over USITT DMX512
The existing E1.20 – 2006, Entertainment Technology–Remote Device Management over USITT DMX512, is being revised to correct errors in the published document and to add a new message enhance functionality. ANSI E1.20 is an extension to USITT DMX512 and ANSI E1.11 that allows for bi-directional communication on the primary data link for lighting control.
Both of these standards will be up for public review and commenting till March 30, 2010.  You can download the documents and review forms for the ESTA Technical Standards Program website at www.esta.org/tsp.
Share

Comments