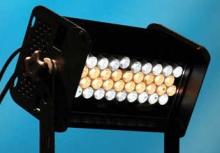 Where you at PLASA this year?  If you stopped by the ETC booth, you should have seen their latest Selador LED product, the Pearl.  ETC has added a white mixing unit to their popular Selador Series of LED products to help round out their offerings.
The Pearl takes advantage of the best traits of the newest white LED offerings. Combining simplicity of use and the powerful output of white LEDs, Pearl provides a bright white light for studio and stage. Pearl provides a carefully chosen mix of warm white (3200K) and cool white (5700K) LEDs that can be variably adjusted to provide just the right color temperature of white light – for the eye or the camera.
Pearl's uses the same lens system as all the other Selador fixtures, giving the user incredible control over the field size – from a narrow, soft-edge 17° spot — to an extremely wide 80° field of light. Pearl produces 3460 lumens from less than 125 watts of power, so the power at your video location goes a whole lot further.
ETC will be rolling out an "official" press release in the near future and be showing the new Pearl at LDI next month in Las Vegas. Read more about the Pearl by visiting the super secret hidden page about the Pearl on their webite, www.etcconnect.com.
Share

Comments