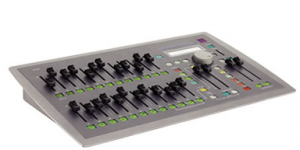 ETC recently released a software update for the "entry" level series of desk, the SmartFade family, version 3.0.0.  The update brings some new features for both the SmartFade and the SmartFade ML desk.  As with most software updates, software bugs are sent to the big bug house in the sky as well.  ETC has also made the SmartSoft software compatible with Windows Vista 64-bit and Windows 7 64-bit OS's for live connection to either SmartFade desk.  I am still waiting for a And YES, SmartSoft DOES have a Mac native solution!
Changes to SmartFade and SmartFade ML:
Stack:
The stack has been completely redesigned. Now you can record Cues in any numerical order that suits you and they will play back in correct numerical sequence. It is no longer necessary to use step numbers, simply the cue number is used. Thus you may record cues 3.7, 3.0, 17, 1, 99.8, 125, 2 in that order and they will play as 1, 2, 3.0, 3.7, 8, 17, 99.8, 125.
Note that cues may be numbered from 1 to 199 and point cues may be inserted anywhere from 0.1 to 199.9. The total number of cues remains fixed at 199.
Stack editing has been simplified. Now there is one type of edit for any step number. Turn the dial slowly to see point cues and faster to move by whole numbers.
MIDI:
Now the consoles are set to default on to General MIDI and interconnect immediately.
Changes to SmartFade ML:
Color control:
Many device types are now supported: RGB, CMY, RGBA, RAGCB (Prism Reveal), ROAGI (Selador® Fire™), RGCBI, (Selador Ice™), ROAGCBI (Selador x7).
User personalities may be made with RGB, RGBA or CMY mixing.
Device personalities:
The SmartFade ML console and SmartSoft contain about 500 standard devices (about 40% of the previous number) . A separate file called PERSLIB.BIN may be placed on an SD card and browsed on the console, or in the simulator in SmartSoft, and this contains over 3000 more personalities, more than double than in previous versions. In the future, new personalities will be distributed in this file allowing SmartFade ML to support an unlimited number of devices. Up to 100 additional personalities may be loaded from the file into the console or SmartSoft. You may also make your own personalities as before.
Displays:
When the stack is on, the displays in SmartFade ML include the step name and the running times. Note that the level bar graphs have been removed to make place for this feature. Level bar graphs are still provided in Preview and Edit modes. The SmartFade display is not changed.
Memory Rubberband:
It is now possible to turn off rubberbanding on memory faders. When on, moving light parameters (non-intensity channels) will follow the fader back and forth. When off, the parameters will move to their new positions as you take up a fader and then remain there when the fader is taken down.
You can download v3.0.0 software update for your SmartFade desk by visiting ETC's Download section of their website.  You can also view the change and release notes form the same page. Additionally, you can grab the SmartSoft software from the download page as well.
Share

Comments