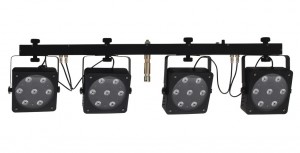 Eurolites out of Germany has just introduced a new LED fixture to their current line up of KLS series of lighting fixtures, the KLS-800.  The KLS-800 is as light-weight as its predecessor, along with the same housing, but considerably brighter.
More from the Press Release:
The KLS-800 is comprised out of four individual, flat and separately directional spots with seven Tricolor-LED-chips (TCL) each. Every TCL-chip is fitted with three LEDs having a rated power output of 1W each. Advantages of this multichip-technology enable a substantially more homogeneous color mixture than is possible with individually installed LEDs. By the way, the loss of light output through the integrated converging lens is negligible. The compact light set accommodates 28 TCL-chips, each having a 3 Watt power output. The achieved light output is comparable to a conventional spot-bar comprised of four PAR-56 in various colors.

The compact set really lives up to its name: the total weight of the LED KLS-800 including bar, TV pin, and the complete cabling is round about 9 kilograms and can be transported comfortably by a single person in the included carrier bag. Thanks to the low weight and the completely pre-fitted bar, installation is simple, even for the not so technically inclined. This makes the LED KLS-800 especially attractive for solo entertainers and other small performing groups with own equipment as well as for technical service providers with mobile discos and rentals.

Control can be carried out either via the optionally available foot switch with long connection cable or via any standard DMX-controller. The compact light set occupies 15 DMX channels. The Eurolite DMX LED Operator 4 is a specially developed controller, with which all functions can be easily accessed. This enables comprehensive use of the system without the tedious familiarization with the subject matter.

A further benefit of the LED KLS-800 is the very low power consumption, which lies at about 160 Watts. Hereby, as well as the minimal heat emission of the LEDs, it encourages use of the compact sets even in the smallest locations, without having the performer or the public to work up a sweat. Moreover, in contrast to its conventional prototypes, the LED KLS-800 does not promote annoying interference in the sound system, in case light and sound need to share an electrical circuit at an event location with limited power supplies.
To learn more about the Eurolites KLS-800 LED fixture, visit their website at www.eurolites.de, and yes, there is an English version of the site.
Share

Comments