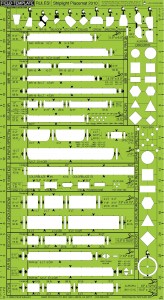 Steve Shelley, the owner of Field Templates sent me a note about his latest drafting template, the new 1/2″ Striplight Placemat. More from the Field Template Press Release:
FIELD TEMPLATE is proud to introduce the updated 1⁄2″ STRIPLIGHT PLACEMAT. Fresh off the grill, this template sizzles with the latest technology. Along with the latest ETC Source 4 MultiPARs, it's got all the latest LED's: Selador, Color Kinetics, and the Altman Spectra-Cyc. The 1⁄2″ Placemat also has today's freshest standards; the Aurora, Econo-Cyc, and Sky-Cyc, as well as PAR-56, PAR-38, R40, and MR-16. There are section cutouts for every fixture type, as well as three sets of circuitry symbols, two-fer dots, and a scenery bumper. This potent parcel of plastic will be available for the USITT convention in Kansas City.

Yee-haw Buckaroos!
If you are not attending the USITT convention at the end of March or cannot wait till then to get your hands on the Striplight Placemat, visit Field Templates website at www.fieldtemplate.com.
Share

Comments