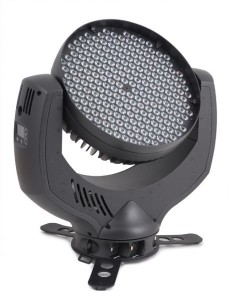 GLP or German Light Products from you guessed it, Germany has just announced a new addition to their Impression line of LED moving head lights, the Impression XL.
GLP has taken their work horse of an LED fixture and added two color temperatures of white, 2300k and 7200k, LEDs to the fixture giving a larger color palette to chose from.  The Impression Xl still uses the 240 K2 LEDs with Red, Green and Blue.
The GLP impression XL weighs only 23.5 kg / 52 lbs. and has the same design as previous impression fixtures featuring no fixture base, low noise operation, simple yet comprehensive menu navigation by thumbwheel and multiple rigging options. The fixture comes fitted with a 10 degree lens as standard, but 25 degree and 40 degree interchangeable lenses are available as optional extras. Further accessories such as honeycomb fronts, Spillring, flight cases and a five-unit 'flower' rigging option are also available.
For more information on the GLP Impression XL, visit their web site at www.glp.de, and yes, there is an English version of the site.
Share

Comments