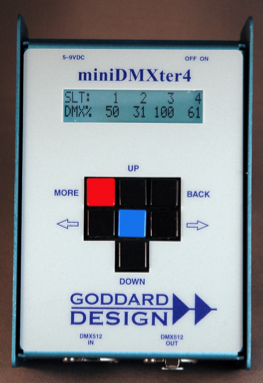 Goddard Design, the makers of the industry popular DMX testing device, the DMXter, has just announced a new DMX testing device, the MiniDMXter4. Very similar to the old Lil'DMXter, the MiniDMXter4 fits in the palm of your hand and has additional features not found in the Lil'DMXter such as RDM management functions.
More from the Goddard Design Press Release:
The MiniDMXter4 is small – 3-3/4″x6″x1-3/4″. It's very easy to use. The 7 button interface provides improved menu navigation and the 40 character backlit display provides clear, plain language prompts. The MiniDMXter4's receive input is properly terminated at all times. The user may turn on the transmitter during reception to allow for loop thru mode (excluding pins 4 and 5). Both input and output support DMX512-A and RDM topologies. The unit is powered by 2 "AA" batteries, a battery eliminator or the USB connector.
The MiniDMXter4 provides 5 transmit modes – ADJUST ONE SLOT, ADJUST ALL SLOTS, AUTOFADE, SEND/EDIT SNAPSHOT, and SEND TEXT.    The unit supports 7 transmit flavors, including Colortran.
The MiniDMXter4 displays received levels in numeric or graphic format. The new, larger display allows for 4 slot levels to be shown numerically, or 32 slot levels to be shown graphically. DMX512 text reception is also supported.
Recognizing the need for a handheld tester that handles basic RDM, we've included RDM responder address settings and basic configuration routines in the MiniDMXter4.
Discover all of the new devices on a RDM system
Select a current device
Address a current device, set a device label, capture and activate device presets
Provide information on an RDM device, including device model, device label, manufacturer's label, software version, current address and DMX footprint, personality, view sensor details, product category, supported PIDs and more.
To learn more about the Goddard Design MiniDMXter4, or to locate a Goddard Design Dealer near you, visit their web site at www.goddarddesign.com.
Share

Comments