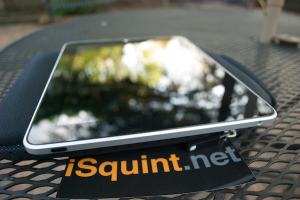 This week was all about USITT in Kansas City for the annual Conference and Stage Expo. This weekend is dedicated to Apples latest product, the iPad. My original plan was to pick up an iPad in KC before my flight left on Saturday, yeah, that was a poor plan as the Apple store in KC didn't open until 10am and my flight left at 10:30.
So after getting into DC about 3:45, my first mission was to of course hug and kiss the wife, then off to my favorite Apple store, Clarendon. With only one person in line ahead of me, it gave me a chance to talk to some of the other excited people in line behind me waiting in the queue for their own iPad. The gent behind me was just excited about the iPad and the possibilities that the iPad can do for him. Apple geeks unite you might say. He is a web design looking for a way to quickly and easily show his clients design ideas and carry his portfolio around. I of course mentioned Zinman Softwares Portfolio App to him to show off his work.
I was next, my heart pounding in total excitement about being a part of the iPad revolution. Picking out my choice of the iPad was easy, the 32gig version, not too big,not too small, as Goldilock says, "it's just right." I was in and out of the Apple store pretty quick, less the ten minutes. As I was leaving I had a HUGE smile going and gave high fives to other early adapters and Apple employee's, it was exciting times! I am still surprised I didn't get a speeding ticket as I was racing home to unbox the iPad and get her up and running.
As you can tell from the photos below, the packaging is very compact as with all of Apple's product package of late in order to help reduce waste and going green. The box contained the iPad of course, a new power supply, cable, a quick reference guide and of course, some Apple stickers! One thing I am wising that Apple included with the iPad was the cleaning rag like they did back when I purchased my 1st gen iPhone.
Since the iPad can be described as a larger iPod touch, it functions just like it thus requiring it to be connected to iTunes first for registration and hookup. After updating iTunes to the latest version and some other software updates that I have been meaning to do, my iPad was ready to play. I transferred all of my apps from my iPhone, some music, a couple of tv shows and a movie or two and I was ready to go. I don't remember breathing when it was time to launch her for the first time.
The first order of business, get the iBook app! It was a free download from the iTunes app store right on the iPad. Why is it not included with the iPad right out of the box, i have no idea, but hey, it was free! Then there was finding some of the other apps that I use on a regular bases that have been ported to the iPad. Such as this, the WordPress iPad app that I am writing this post in.
Moving around and using the iPad is very comfortable. It came naturally since I was an early adapter of the iPhone and have been using it for three years. Since it has a larger screen, typing on it is even better. Since I use the smaller Apple keyboard for typing on my MacPro, I am use to using a smaller keyboard so typing with two hands on the iPad in portrait is extremely easy.
I'm excited to learn more about the uses of the iPad and how it will change my work flow not only here on iSquint, but in my day to day life. Some have questioned my judgements in getting an iPad with only WiFi and not waiting for the 3G version that is coming in a month. Recently I upgraded my sprint mobile broadband card from a USB stick for my MacBook to a Sprint 4G MiFi Access point. This was all in preparation of the iPad coming out. Rather then paying once for broadband access to my MacBook and then another service for just my iPad, I can connect both devices to the MiFi and be connected where ever I might be. Thus saving some money and hey, I get an iPad on iPad Day!
I am still testing, (more like playing), with some of the features of the iPad and how the iPhone lighting apps look and feel on this larger screen. Look for more about the iPad and what our lighting apps will look and feel like here on iSquint.
OH, One of the exciting yet smaller things that really makes my day is my new signature to my emails from the iPad.
Sent from my iPad
Share

Comments