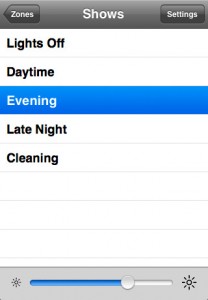 I am a little late to the table with this one.  Back in April, Philips Color Kinetics released a new iPhone app into the iTunes store, the LSM Remote.  The LSM Remote App is used to control Philips Color Kinetics Light System Engine on your iPhone/iPod Touch/iPad.
Simply add a wifi access point to the network on which Light System Engine is installed, and LSM Remote can control all of your shows remotely. For each zone programmed on the LSE you can select which show to play, adjust its brightness, or turn off its lights. Additionally, you can specify a show transition type and time.
This has a WIDE range of uses.  Practical for live performances?  Maybe not, but the architectural possibilities are endless.  Learn more about the LSM Remote from Philips Color Kinetics website, www.colorkinetics.com. You can download the LSM Remote for FREE from the iTunes App Store.  But in order for it to work correctly, you need some more pieces to the puzzle.
Share

Comments