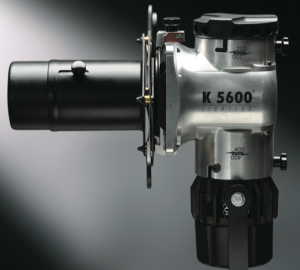 If you are a TV and Film person, you might be interested in what K5600 just released for their 200w and 400W Joker Bug's, the Focal Spot. K5600 developed a new focal spot that fit BOTH their 200W and 400W Joker-Bug lights.
The Focal Spot utilizes a T-shape design with a mirror inside to reflect the light out the front into the lens housing. One side of the T fits the 200W Joker-Bug and on the other the 400W Joker-Bug.  This means that you do not have to worry about the correct size focal spot to fit your 200W or 400W Joker-Bug, One size fits both. No tools are required to switch from the optical beamer to the Focal Spot as it is just a twist of the thumb screw.
The Focal Spot is machined from aluminum which means that is lightweight at less then 1.5lbs and very compact at less the 10″ in length.
The Focal Spot is equipped with a 20 and 40 degree lens, adding additional versatility.  Standard M-sized gobos can be used to project patterns, and the lenses can be focused to create either a hard or soft edge. 4 shutter cuts are outfitted to enable shaping of the light pattern to fit you requirements.
For more information on the 200W & 400W Focal Spot from K5600, visit their website at www.k5600.com.
Share

Comments