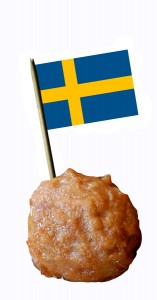 The Swedes are invading LDI this year and they are bringing two of the best things to come from Sweden, meatballs and wireless DMX.
Wireless Solution Sweden AB is ready to take Las Vegas by storm during LDI, October 22-24 at the Las Vegas Convention Center in booth 2062. In addition to an exciting range of products (and in true LDI spirit) the company will hold its famous Swedish vodka and meatball party.
The company will display W-DMX™ Generation 4, which offers features making it actually better than cable. G4 is able to repair corrupted data and vouches for maximum security by running on dual band and creating a backup duplicate of the signal.
Wait wait wait, I want to hear more about this vodka and meatball party!  The W-DMX Press Release only mentions it, but doesn't give any details!  I guess that means we must invade the Wireless Solution stand, 2062 early to get more details.
If you find out any additional information, be sure to drop the information off in the comment section of this article.
Share

Comments