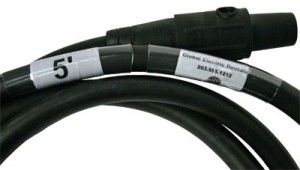 How many times has it happened to you, you can't tell which cables are yours because cables just all look alike?  Lex Products now offers standard cable labels using new permanently self-laminating, weatherproof, durable vinyl labels which are wrapped around the cable. These rugged labels are then covered with the clear heat shrink that is included on every cable assembly, providing multi-layer label protection. This new method has several benefits, including:
High quality printing of logos and text for superior readability
Permanently self-laminating labels under clear heat shrink offer multiple layers of protection for longer life
Labels can be applied to in-stock cable, reducing lead times
Colored labels available
All cables now include length and catalog number labels
To see about getting custom labels for your cables, download the Custom Cable Label Order Form from Lex Products and contact your local dealer for more information.
Share

Comments