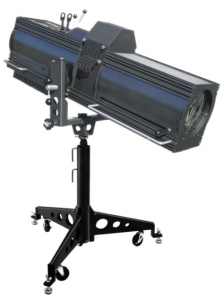 Way back when at LDI 2010, Lycian introduced a brand new high efficient follow spot, the 1250KB.  How is it so efficient? It uses a 1200 watt, 80 volt Philips Hi-Brite, Fast-fit quartz lamp and produces a 3250k temperature beam with no color correction needed.
At 50 feet, the 1250KB is able to put up 225 foot candles in flood and 415 foot candles in spot.  Move the 1250KB back to 125 feet and the it able to put out 36 foot candles in flood and 66 foot candles in spot.
Since the 1250KB uses a 1200 watt lamp, plugging into a 15amp circuit is not a problem. At 114 pounds and measuring in at 51″ long, the 1250KB can be considered a mid sized follow spot perfect for high schools, medium sized churches and can fit in theatre coves or almost any box boom position.  Lycian also mentions that the 1250KB is ideal for HI-DEF TV since it is flicker-free and has smooth fading.
The 1250KB also features a Nichrome iris, a 6 color, self-canceling color boomerang and of course a heavy duty folding base.
You can learn more about the Lycian 1250KB follow spot by visiting their web site at www.lycian.com.
Share

Comments