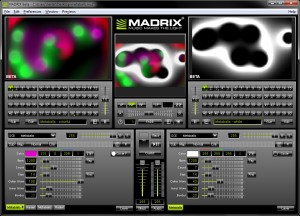 Inoage Trade, a German lighting and Control manufacture based in Dresden Germany is preparing to introduce a new PC based lighting controller at this years Prolight + Sound in Frankfurt Germany, MADRIX 2.8.
MADRIX is a professional LED lighting controller based on the windows platform. MADRIX supports a lot of well-known industry standards, such as DMX512, Art-Net II, the Philips ColorKinetics and Insta/Robe protocols, and DVI output. The application supports pixel mapping and is both an effect generator and media server with outstanding capabilities to display unique effects. MADRIX can be used alone, or along with any DMX/MIDI console or desk on the market.
Some of the features found in this latest version of MADRIX are Two fresh and creative effects called "SCE Metaballs" and "SCE Drops" as well as the much-improved Sound2Light effect "S2L Equalizer" extend the possibilities to amaze every audience. In addition, reorganizing effects by using drag & drop is now easily possible.
Combining effects was greatly enhanced by adding new features to layers, such as Copy, Paste, and Insert. This represents the professional and reliable performance of MADRIX combined with its ease of use.
The Patch was completely rebuild and is as user-friendly and fast as never before. And it now offers an advanced range of functions. Moreover, the DMX Watcher and the DMX Fader Tool—two very useful tools—highly increase productivity and simplify working with LED installations.
MADRIX supports a whole slew of DMX512 interface devices such as the Enttec Open DMX USB, Daslight's DVC2 512 just to name a few.  MADRIX even supports Ar-Net interfaces.
If you're interested in the PC based lighting controller, you can visit the MADRIX website at www.madrix.com and download a beta version of the software.  The developers are always interested to hear your feedback and comments via the online forum. Retail price for the base version of MARDIX, the Neo is €350 or $475 USD.
Share

Comments