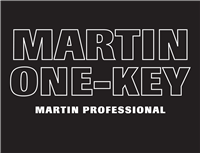 Martin One-Key is a future-proof concept to distribute software licenses without the inconvenience of storing licenses in DMX hardware as we've been used to for the last 20 years. From now on, all Martin Professional PC-based applications will share the same protection method.
Martin One-Key is a simple USB dongle that can store one or multiple licenses and protects the software from illegal copies, therefore protecting the user's investment.  No longer will software licenses be unlocked by DMX hardware that usually becomes obsolete after a few years, or even worse becomes defective and renders the software unusable.
Once a user owns the Martin One-Key, adding new software is a few click process; no need to wait for a box to be delivered. With Martin One-Key, users can easily try any other Martin Professional software for a 45-day trial period with all features. Martin One-Key simplifies software distribution, improves protection, protects investments, and opens doors to new ideas never tried before.  Martin One-Key is the future, now.
Martin One-Key is now bundled with the following products:
LightJockey II Kit
M-PC-Basic 8 universes Kit
M-PC Pro 64 Universes Kit
MSD5 Gold
MSD5 Live
MSD5 Live-4
Martin M1 (built-in key)
All MaxModules (built-in key)
Maxxyz Compact (built-in key) 
Note: Martin M1, all MaxModules and Maxxyz Compact already use an internal Martin One-Key since their introduction.
To learn more about the Martin One-Key, visit their website at www.martin.com.
Share

Comments