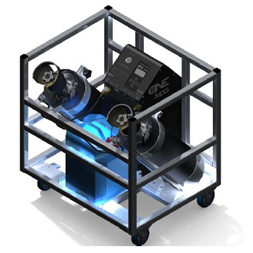 What is more exiting then lighting, witnessing awesome lighting aerials due to fog and haze! MDG Fog has just announced the release of their latest fogger/hazer, theONE. theOne is a fully digital atmospheric generator. From the same machine, you can produce and control either fog or haze.  theOne is built inside an aluminum rolling rack for easy rigging, storage and transportation.  The frame holds two 20-liter canisters for either CO2 or N2.
Controlling theOne is easy, each parameter is set into specific presets, but can be accessed and redefined by advanced users. The networking capability of the MDG theO allows the user to install the generator as part of an existing ACN network. theOne only take 4 DMX addresses to operate and has the ability to gradually switch between fog and haze modes via the various networking protocols and levels.
theOne is a heavy beast weighing in at 185lbs.( 84kg) and requires just a bit of power, 1415 watts to be exact. With fully loaded canisters theOne can run in fog mode for a continuous 10 hours, in haze mode, 308 hours!
Pricing has not been made available yet.  To learn more about theONE, visit ACT Lighting, (www.actlighting.com) the US distributor of MDG Fog.
Share

Comments