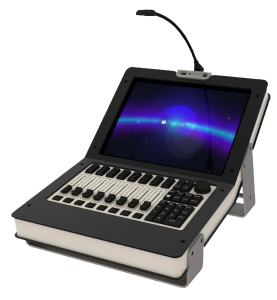 PLASA 2010 will see the release of the Vision Pro from Midiator. The Netherlands-based company is set to launch the visual show control device during the trade-fair at stand H1.41. The Vision Pro will officially be released on the first day of PLASA 2010, when Midiator's founder Menno Pleij and James Heron of renowned media-server manufacturer Green Hippo show the first ever 3th-party integration of the proprietary HippoNet protocol, the foundation of the Hippotizer family.
At Midiator's stand there will be multiple demos showing integration of the Vision Pro with several media-servers, light consoles and other kinds of show devices. Users can get demonstrations or get 'hands-on' with the product in conjunction with equipment from brands such as Barco, TV-One, Kiss-Box, FlyingPig and of course Green Hippo from one control surface.
Visitor's can also see unique setups at the stands of Midiator's UK distributor (AC Entertainment) and Green Hippo, together with a small setup at the innovation gallery. The current line-up of distributors consist of AC Entertainment (UK), CSI (France), Technical Supply Japan (Japan), Theatrixx (Canada), Perfect Design Factory (Hungary) and Interlight (Benelux). Midiator invites distributors with interest of distribution of Midiator's product portfolio to visit their booth. Appointments can be made in advance.
Not going to make it to PLASA or you just can't wait to read more, head over to Midiator's website at www.midiator.eu.
Share

Comments