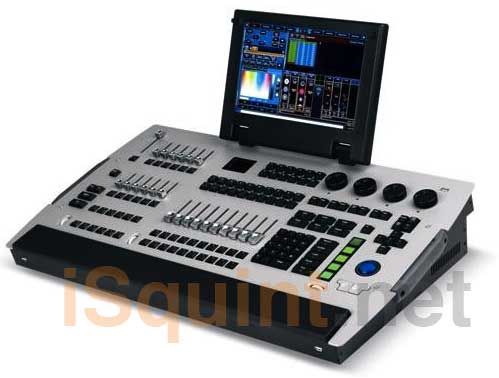 Yesterday I posted a very interesting video from Martin about what they plan on launching at ProLight + Sound at the end of the month. Well, Martin was kind enough to send over a few details and photo of the desk. Here are some of the details that Martin was able to provide about the new desk.
Fully integrated control solution in smaller a form
High resolution touchscreen in 16:9 format
Folding built-in display
Lightweight and solid construction
Powerful software with unmatched ease of operation
High quality components for tactile access
Multiple playback systems
Multiple external display
Up to 46 direct access to playback from surface
6144 parameters
Digital LCD buttons for direct parameter access
Multiple wing attachment (MaxModules)
4x DMX Universe direct from the console
Up to 12 Universe over Artnet
Calendar and schedules
Customizable Graphical User Interface
Powerful effects engine
1000 cuelists with fader control
1000 cuelists with playback control buttons
Parallel execution of multiple cuelists
Submaster, Groupmaster and Override functionality
Fanning functionality on Parameter and time
On-the-fly global timing adjustments
All this is just 14.4kg or 32 lbs.
A name has still not been released along with any additional photos. But from yesterdays video, what what you can see when the camera is in focus and in between strobes, it looks super sexy. The new Control surface will be on display at ProLight + Sound in Frankfurt Germany starting March 24 in the Martin Professional Stand, Hall 9.0 B91.
Share

Comments