Multiform will be announcing the latest additions to their range of LED lighting fixtures on the booth of their international distributor Adelto Ltd. (Hall W1 No. 1E86) at the Shanghai Pro Light & Sound show October 12 -15.
The new Gll products are designed for indoor or outdoor use with an IP65 rating. The HP3 uses single chip RGB LEDs to provide a very bright light source.ThenewHP5modelsincorporateRGBAW LEDs to provide the widest range of colours. All models use Neutrik XLR5 and PowerCon connectors and a conversion kit to replace these with PG9/11 fittings for outdoor use.
MultiSpot GII-HP3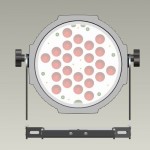 This new 72W – 2950lm TriLED version of the 2nd generation MultiSpot HP is the right choice where narrow beam angles are not needed, but the colour consistency at short distances is a requirement. Focussing on only RGB as the source colours, the total brightness of this unit is very impressive. It features a Flexible DMX control scheme with 4 different control modes, RGB and HSL, with either combined or separated dimmer/strobe channels.
MultiSpot GII-HP5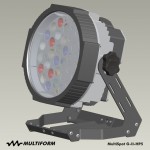 This 70W – 2600lm 2nd generation MultiSpot HP comes with a wide colour range, 6 DMX control modes, powerful RGBAW LED panel, advanced HSL colour mixing control and a large user friendly LCD display. It is one of the few fixtures in the market to provide narrow beam angles due to its discrete LED design. At the same time, the unique honeycomb louver improves colour consistency.
MultiWall GII-HP5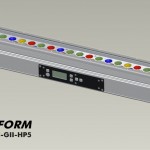 The 60W – 3150lm 2nd generation MultiWall HP shares its spot-light brothers' wide colour range, powerful RGBAW LED panel, advanced HSL colour mixing control and a large, user friendly LCD display. A new, unique cooling system provides for the first time, extended life-time expectation for a convection cooled linear fixture.
To learn more about The new GII series of LEDs from Multiform, visit their website at www.multiform-lighting.com.  I hope we get to see these at LDI in the Apollo Design booth as they are the US distributor!
Share

Comments