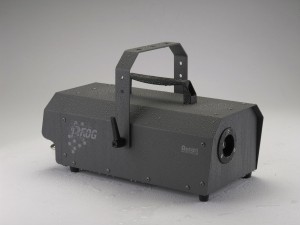 No one can predict the weather, but now anyone can guarantee there'll be plenty of fog outside, thanks to the new Antari IP-1500 indoor/outdoor fog machine. The latest innovation from Antari, a leader in fog technology, the new machine, which features a 1,500 watt heater, can deliver a massive 20,000 cubic feet per minute of fog.
Advanced design features in the Antari IP-1500 have earned it an IP-65 rating, making it safe and effective to use outdoors.  When used outdoors, even during rain storms, the machine detects ambient temperatures and adjusts its operating parameters accordingly so it runs with maximum efficiency.  Whether it's used indoors or out, the IP-1500 is the greenest choice in foggers, consuming 13% less electricity than typical fog machines in its size class. The IP-1500 also has a very efficient onboard heat conservation system.
Adding to the IP-1500's versatility are its DMX and wireless control capabilities, which are standard with the unit.  The IP-1500 also features volume mode and timer mode control. Other features include an extremely precise temperature control system, and a liquid detection system that alerts users when fog output or liquid supply is running low.
The rugged, but compact, IP-1500 weighs 13.5 kg, and consumers a litter of liquid every 5.8 minutes when running at full capacity. When the machine is first activated, its average heat-up time is 6 minutes.  Like all Antari products, the IP-1500 is distributed exclusively in the United States by Elation Professional.
Learn more about the Antari IP-1500 Fogger by visiting Elation Professionals website at www.elationlighting.com.
Share

Comments